There's Always Labour Day To Send Summer Away With A Bang!
Another Summer has come and is quickly going. There is still plenty of fun to be had, especially since Labour Day weekend is still to come!
Here in Revy, there is plenty to do to send the Summer off with a bang. Have fun, try new things, and cross items off your bucket list!
REVELSTOKE GOLF CLUB
Our golf course is one of the best in Canada. With the mountains in the distance, the view alone is a draw for golf lovers. The 93rd Annual Labour Day Open is taking place, and it's the tournament you want to join if you're a competitor.
Photo Credit: Revelstoke Golf Club
REVELSTOKE PARAGLIDING
Soar with the birds with tandem paragliding.
Revelstoke Paragliding offers you the opportunity of a lifetime. The mountains, the wind, the freedom! Conquer your fear of heights with the help of our experienced professionals. This is something you have to do once in your life, and in Revy!
Photo Credit: Revelstoke Paragliding
HELICOPTER RIDES
Glacier Helicopters is one of our local and trusted helicopter providers. If jumping out of a plane, or paragliding, is too far out of your comfort zone, Glacier Helicopters offers sightseeing tours. Renting time to view Revelstoke from an aerial view is still attainable. The beauty is something you only dream of. It can be a reality. And, quite frankly, one of the last Summer sunsets is best viewed from the best seat in the house.
Photo Credit: Glacier Helicopters
Just a little reminder that we have been nominated for the World Ski Awards 2023 in the category of Canada's Best Ski Chalet.
If you would like to vote for us, voting closes in just over one month, on October 13, 2023. Cast your vote by clicking here.
We appreciate everyone that has and will vote for us!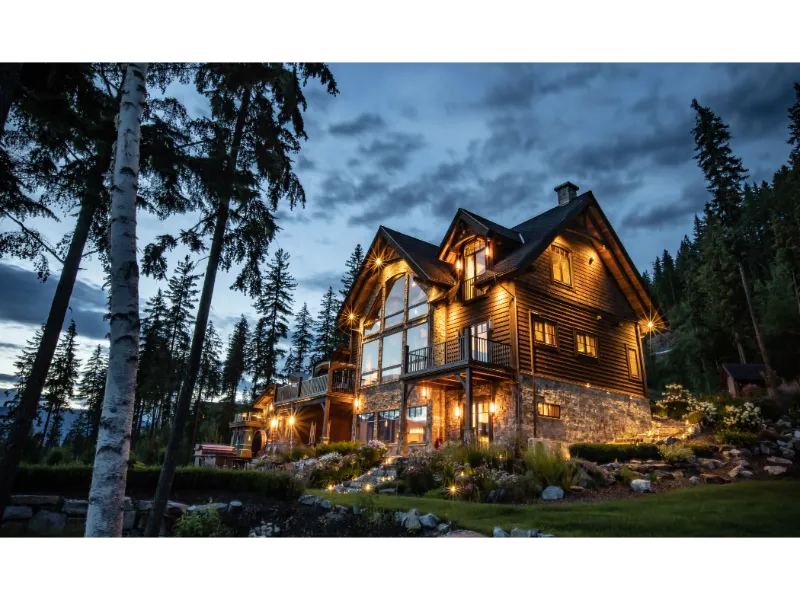 At the end of your exhaustive day, Bison Lodge is your final stop.
Top-notch wine, top-shelf Dom Perignon, and meals to satisfy your palate, you'll be craving for your day out to end just so you can eat and drink and be merry.
After day, unwind with a friendly game of billiards, chess, or vintage video game.
Consider Bison Lodge your home away from home, your safe haven after a long day in the Revelstoke wilderness. Where you can hang your hat, rest your head, and just let loose. Respite to rejuvenate for the next day's adventures.
Contact us today to book your stay with us in 2024.