Just like in any town or city in North America, Revy's love for Halloween is ghoulishly fun!
SUSAN'S HAUNTED CARPORT
Susan KinCaid and her family do their best to give the community some screams, and some fun memories. Each year, she and her family transform their carport into a haunted house. It all started with just one blowup skeleton and has since turned into a city-wide attraction. It gets bigger and scarier every year. There is no fee for entry, but they do appreciate extra screams! Our local magazine Revelstoke Mountaineer interviewed Susan back in 2020 to discuss this awesome Halloween haunt. View the video by clicking here.
THREE VALLEY GAP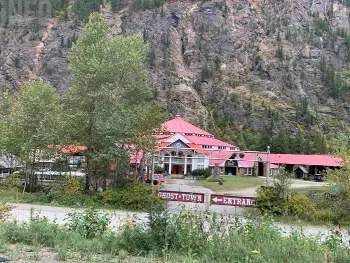 The Three Valley Gap is located just on the outskirts of Revelstoke. This part of British Columbia was part of the gold rush of the 1800s, building a prosperous community back in 1862.
More than 25 historic buildings are still standing from the time period and could potentially be homes for the spirits of the long dead.
Just last year, in September 2022, The Other Side, a paranormal documentary series that aired on APTN, was filmed at the famous Hotel Bellevue.
The Hotel Bellevue was originally built in 1898 on the shores of Mara Lake, and when purchased by Gordon and Ethel Bell in 1964, they tore down the hotel board-by-board and rebuilt it to exact specifications in Three Valley Gap.
Whether or not you believe in hauntings, this ghost town is a fun and mysterious place during the Halloween season. We recommend taking a tour of the grounds this year. You can read more about the history of this famous ghost town by clicking here.
MT BEGBIE BREWING CO.
Open all year round, Mt. Begbie Brewing Co. is a local favourite. Beer enthusiasts gather here and bond over pints and delicious meals.
If haunted houses and all things scary aren't your thing, rest and relax at Mt. Begbie Brewing Co. for a seasonal beverage. If you see a ghoul or goblin serving you, don't worry, they encourage their staff and patrons to dress up on Halloween.
REVELSTOKE TRADING POST
If you're looking for some memorable trinkets to bring home, may we suggest Revelstoke Trading Post? Revelstoke Trading Post features plenty of options for unique souvenirs. Seasonal products exist, including pumpkin spice candles. Take some time to peruse their store while you're here and bring home some awesome gifts.
Halloween can be a fun time of the year. We love seeing all the costumes and kids enjoying themselves, and the adults too!
If you find yourself in Revelstoke this Halloween or any Halloween in the future, we recommend checking out all the fun haunts in town and just outside of town. We're a fun and creative bunch!